Double Wire Balanced Weave Conveyor Belt
Double Wire Balanced Weave Conveyor Belt Features
---
The double wire balanced wava conveyor belt is connected by a straight rod with two spiral wire, the mesh opening generally small. Can choose two kinds of model, the common type use round wire to make spiral mesh, can match the chain type . Another use flat wire to make spiral mesh , the flat wire mesh get better flatness.

The general type is connected by the left and right side of the net, which is connected by straight string. The spiral mesh is dense and the mesh spacing is even, which can make the conveyor belt walk smoothly. The mesh belt is suitable for conveying line with relatively small volume and relatively heavy quality. The two ends can be used for various edge treatment types.

Match chain conveyor belt is generally by chain drive small shaft drives the mesh belt to run again, wear into the net bar shaft, small to wear into the chain hole on both ends of the shaft, so as to achieve the chain driven conveyor mesh belt, chain network is stable, transmission torque is small.


Double Wire Balanced Weave Conveyor Belt Applications
---
Widely used in metallurgy, machinery industry, high-temperature heat treatment of automatic lines and large load of automatic transmission lines, and in the glassware annealing furnace, the electronics industry, the food industry can be a reasonable use.
Round Wire Balance Conveyor Belt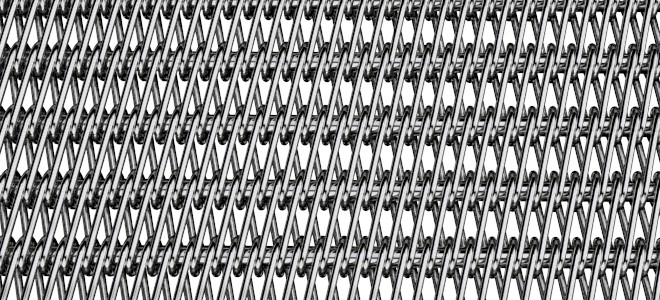 Flat Wire Balance Conveyor Belt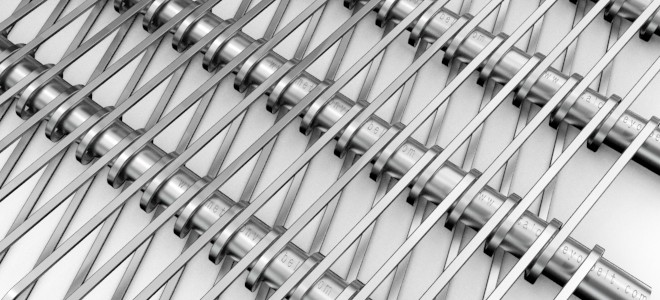 Chain Balance Conveyor Belt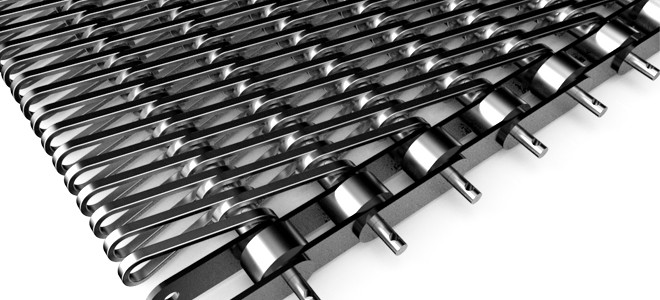 Conveyor Belt Reference
---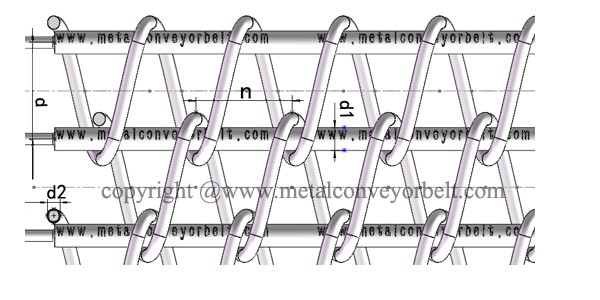 Round wire balance conveyor belt technical data
Type
Spiral Number
Pieces/m
Stripe Number
Pieces/m
Rod Dia.(d2)
mm
Belt Thickness
mm
Spiral Wire
Edge Type
Ds3.5/3.5
100
46
3.5
14
Round
Ⅲ Ⅳ Ⅵ
Ds2.8/3.5
132
71
3.5
12
Round
Ⅲ Ⅳ Ⅵ
Ds2.8/2.8
118
60
2.8
11
Round
Ⅲ Ⅳ Ⅵ
Ds2.0/2.0
200
125
2.0
9
Round
Ⅲ Ⅳ
Ds1.6/1.6
250
200
1.6
7.5
Round
Ⅲ Ⅳ
Please contact our engineers for special specifications @ Email
Equipped chain conveyor belt technical data
Type
Rod Pitch(n)
mm
spiral Pitch(p)
mm
Rod Dia.(d1)
mm
Belt Thickness
mm
Equipped Chain
Spiral Wire
Edge Type
Ds25.4x
25.4
12,16
5-14
8-17
16A,16B
Round / Flat
Ⅲ Ⅴ
Ds31.75x
31.75
12,16,20
6-14
9-17
20A,20B
Round / Flat
Ⅲ Ⅴ
Ds38.1x
38.1
12,16,20,22
7-14
10-17
24A,24B
Round / Flat
Ⅲ Ⅴ
Ds44.45x
44.45
12,16,20,22,25
9-14
12-17
28A
Round / Flat
Ⅲ Ⅴ
Ds50.8x
50.8
12,16.20,22,25,27
8-14
13-17
32A
Round / Flat
Ⅲ Ⅴ
Bs63.5x
63.5
12,16.20,22,25,27,37
10-14
13-17
32A
Round / Flat
Ⅲ Ⅴ
Please contact our engineers for special specifications @ Email